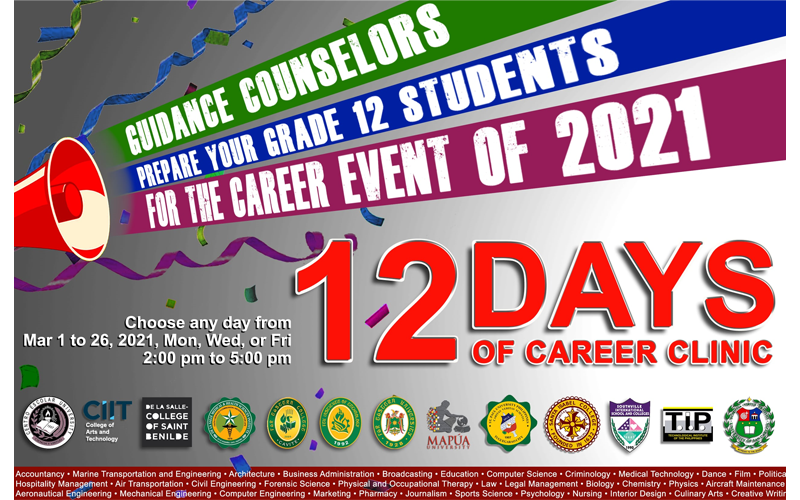 Many students are still uncertain of the college programs that they will take after senior high school. This is primarily the reason GuidanceNGO has embarked on a career fair titled "12 Days of Career Clinic" which is a focused consultation about college programs and careers.
Grade 12 students will get an opportunity to speak with experts in various college programs. Deans and program chairs will grace this online event to discuss essential items of information about college programs such as:
• Areas of study about these college programs
• Skills and character students need to develop if they want to pursue certain college programs
• College training they will go through
• Career paths or employment opportunities that await students who will pursue many college programs
Grade 12 students will also be oriented on the new college program curricula as these have been revised after the K to 12 curriculum's implementation.
This online event will happen every Monday, Wednesday, and Friday from March 1 to 26, 2021 at 2 to 5 pm. Each day, four sessions of career clinic will be held so that each attending student will gain insights about four college programs that they may want to pursue.
Senior high school counselors who are interested to have their Grade 12 students attend this online event can get in touch with GuidanceNGO by sending an e-mail at guidancengo@gmail.com. They can also text or call GuidanceNGO thru the contact details shown on this Web site.
---