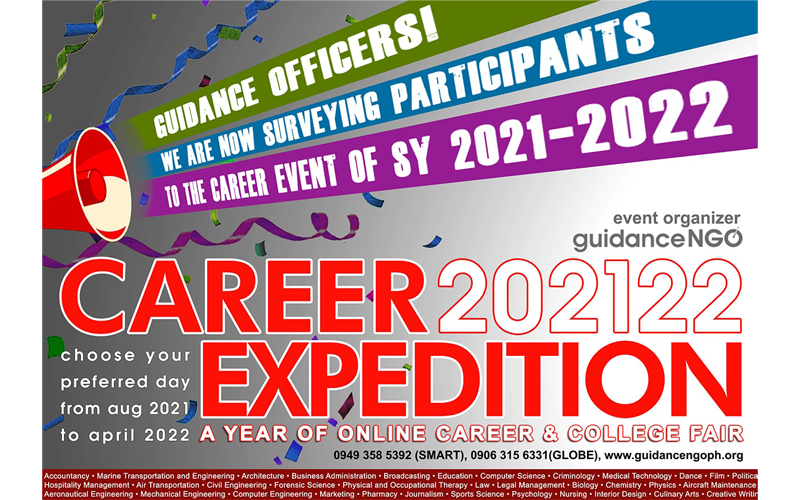 After the immensely successful series of events titled Career Expedition 2020-2021 and its sub-event 12 Days of Career Clinic, GuidanceNGO embarks on surveying participating senior high schools in Career Expedition 2021-2022. As the pandemic doesn't show signs of letting up, the series of events will again be conducted online.

One enhancement to the event is holding it every Friday at 1 to 5:30 pm from August 2021 to April 2022. This event will be participated in by SHS students from various schools. For senior high schools that want the event conducted exclusively for their students, they may choose to hold it any day from Monday to Thursday and Saturday.

Further, consultative sessions will be held by prestigious colleges and universities for students with special concerns about enrollment.
Career Expedition 2021-2022 will be attended strictly by senior high school students. For schools that are interested to hold career fairs for their Grade 10 students, a different event is being lined up by GuidanceNGO. This event will be launched in June 2021.

GuidanceNGO is surveying schools' preferences in joining Career Expedition 2021-2022. Approximately 1,300 schools or 130,000 senior high school students may be accommodated in school year 2021-2022.
Senior high school counselors or guidance officials who are interested to have their SHS students attend this online event can get in touch with GuidanceNGO by sending an e-mail at guidancengo@gmail.com. They can also text or call GuidanceNGO thru the contact details shown on this Web site.
---