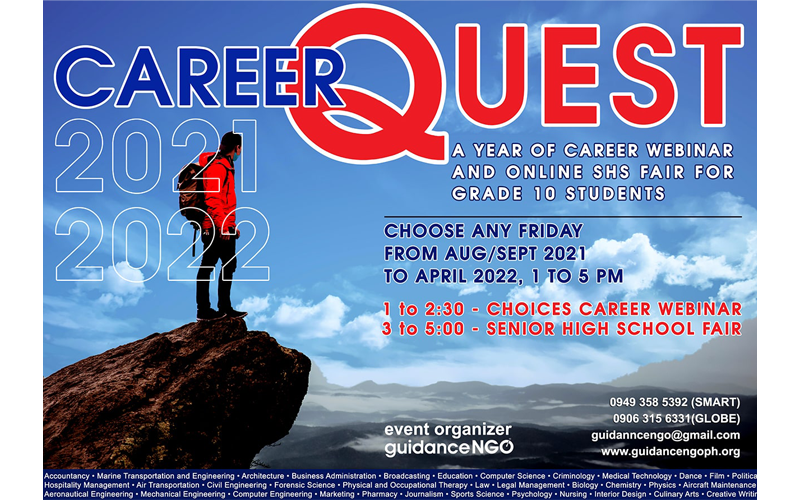 In preparing Grade 10 learners for senior high school, they must be equipped with substantial information why they should choose any of the four basic career tracks, Academic, Technical-Vocational Livelihood (TVL), Arts and Design, or Sports. Alongside these career tracks are strands or specializations such as ABM, HUMSS, STEM, and GAS under the Academic Track; Agri-Fishery Arts, Home Economics, Industrial Arts, Information and Communication Technology, and TVL Maritime under the TVL track, and specializations on Literary Arts, Visual Arts, Dance, Music, and Theatre Arts under the Arts and Design track.
Too many terms to grasp yet necessary as senior high school is the learners' first attempt at making crucial decisions on careers.
The Career Quest 2021-2022 event aims to clarify reasons for learners to choose career tracks and strands or specializations. Clarity about college programs and career opportunities facilitates learners' resolve to pursue particular professions.
Career Quest 2021 to 2022 will be held every Friday at 1 to 5 pm. The event will begin with a 90-minute webinar titled Choices where learners are oriented on the features of senior high school, subject areas covered by each career track and strands, and the aligned college programs.
The Choices webinar will be followed by a senior high school fair at 3 pm where colleges, universities, and basic education schools will present their senior high school programs.
The event will kick off in August or September 2021 and will continue till April 2022. Guidance officials of junior high schools nationwide are encouraged to express their intentions to participate in the event early as participation is limited. Grade 10 students from various junior high schools may join the event free or charge. Only schools that want the event conducted exclusively for their Grade 10 students need to pay a minimal event management fee or speaker's honorarium.
Guidance officials may e-mail GuidanceNGO at guidancengo@gmail.com or call the numbers on this Web site.
---