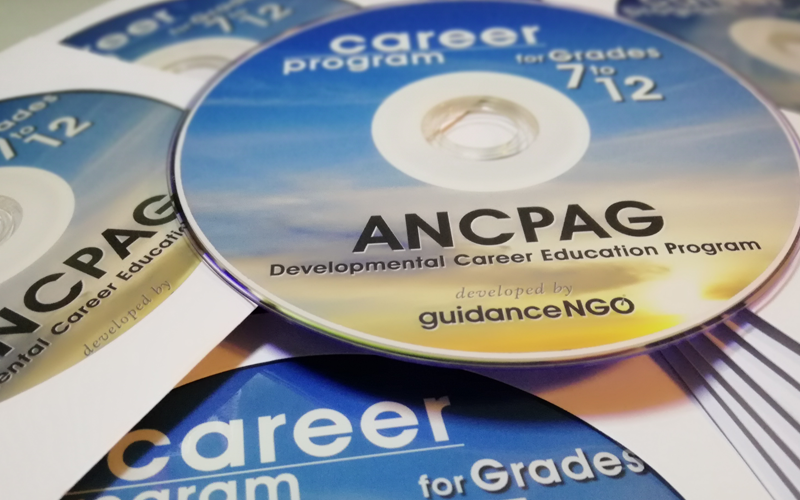 Beginning June 2018, GuidanceNGO distributes DVD samplers of ANCPAG, a developmental career education program designed for students in Grades 7 to 12. ANCPAG, an acronym that stands for Adaptation, Navigation, Choices, Paths, Assessment, and Goals—titles of career seminar modules for each junior and senior high school grade level, is being implemented in many schools in the Philippines including Saint Jude Catholic School in Manila, University of San Carlos and University of San Jose Recoletos in Cebu, and Oro Christian Grace School in Cagayan de Oro.
The ANCPAG program aims to facilitate the comprehension of pursuing many careers and address difficulties students encounter in choosing the appropriate college programs and the right colleges and universities. With ANCPAG, formalized career preparation starts as early as Grade 7 as students can be frustrated in pursuing certain careers because of late career planning.

"We look forward to more schools using the ANCPAG program so Filipino students can maximize their potentials. This will also help us raise more funds for GuidanceNGO's advocacy which is giving FREE career seminars to government high school students, " commented Tom Ocampo, GuidanceNGO's managing director.

The distribution of the DVD sampler is by Philippine region. GuidanceNGO has begun distribution in Metro Manila, Central Luzon, CALABARZON, Central Visayas, and Northern Mindanao schools. Guidance counselors in other places who need copies immediately are advised to message GuidanceNGO through its Facebook page or e-mail GuidanceNGO at guidancengo@gmail.com or text GuidanceNGO at 09493585392 (Smart) or 09773662488 (Globe).

---